AmaliTech and nexum have been cooperating since 2020 – As part of the global IT training programme, they have jointly trained more than 40 experts from Ghana in web-based cloud systems such as Salesforce, as well as content management systems, and are currently building software testing and quality assurance team. nexum's commitment has a clear strategic impact and aims at a long-term growing partnership.
After 1 1/2 years of working together remotely, we finally had the chance to visit our strategic partner, AmaliTech, in Ghana. During our 5-day trip, we visited the University of Ghana in Accra and the Training and Service Center of AmaliTech in Takoradi. Exchanges with the Dean of Computer Sciences, as well as a group of students, have given us exciting insights into the university education of young Ghanaian IT talents. We were thrilled by the interest and curiosity of the students with regard to working for German companies like nexum in the future.
The strong motivation of the young people was also evident during the further visits to the training and service center in Takoradi. This is the place where future nexum team members are specifically trained to work together on complex software projects in an international environment, e.g., together with our tech hub in Valencia.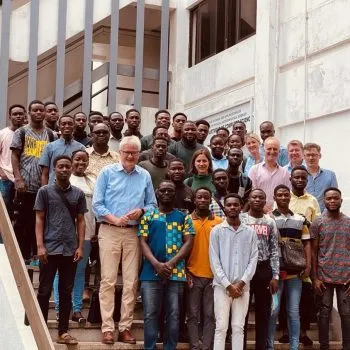 The special focus of our journey was on meeting the team at the service centre: developers and testers already working as an integral part of our team now or in the near future. From here, specialists from AmaliTech, trained in various technologies, collaborate remotely with our nexum experts across several locations. What brings the team together is the common goal of developing custom-fit solutions for our clients. We used the time on site to reflect on the collaboration to date and have looked into our joint future. We agreed that initial challenges such as intercultural differences, communication hurdles, or organizational constraints were short-term obstacles at best. Through a great deal of transparency, an open exchange, and step-by-step improvements, however, we were able to quickly overcome these obstacles. The bottom line? We will further deepen our cooperation and continuously raise it to a new level.
We were overwhelmed by the warm welcome, fruitful discussions and above all a great party with lots of singing and dancing. Our trip not only gave us insights into the team's immediate work environment but especially also into local work routines and ways of thinking. At the end of the day, developers and testers in Ghana and Germany alike face similar challenges in their day-to-day job. The more we can align our teams around a common goal and establish an integrative collaboration model, the more successful each individual will be, but more importantly, the more successful the team as a whole will be. We are thankful for the great cooperation and for the fact that we had the opportunity to get to know an interesting country and many impressive people! Thanks, AmaliTech team…this was certainly not our last visit.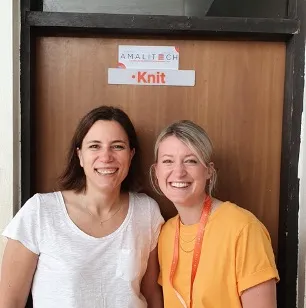 Our customers, too, will benefit from this partnership in two key ways: within a short period of time we can build up a diverse remote development team specifically for their purposes. Beyond the pure provision of people, we will advise on and establish our best practice collaboration model. Our approach starts with an analysis of the starting position followed by a proposal for a customized integration setting and the final implementation. We are currently in close discussions with both our customers and partners such as magnolia to intensify our cooperation. So, more to come…